THE INTERNATIONAL ASSOCIATION OF PEOPLE
WHO DINE OVER THE KITCHEN SINK
SINKIE® Founded 1991
Our 31st year of bringing casual, comfortable, informal dining
out of the pantry and into the light of the refrigerator.
Our 26th year on the Web.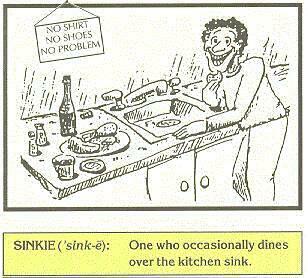 DINE OVER YOUR KITCHEN SINK DAY!
Every year, the day after Thanksgiving
(Friday, November 25, 2022)
Christmas shopping and Thanksgiving leftovers provide the perfect reasons to enjoy a quick meal. It's the day many people discover the benefits of becoming a SINKIE and go on to many years of dining with a view overlooking the water.
Eating and snacking over the kitchen sink.
Millions of people around the world have been enjoying this casual dining style for many years.
Their casual dining style can also include standing in front of their open refrigerators, rummaging around the leftovers, taking inventory of the contents.

Drinking milk straight from the carton.

Eating on the run.

Grabbing a jelly doughnut, while racing out the door in the morning, late for work.

Dashboard dining in the car.

Having a desk lunch of M&Ms and Diet Pepsi from the vending machines in the break room.

IN OTHER WORDS, IF IT HAS ANYTHING TO DO WITH HAVING A QUICK BITE, IT HAS EVERYTHING TO DO WITH BEING A SINKIE.
All of us at Sinkie Dot Com have been standing at our kitchen sinks since 1991 and are beginning to get a little weak in the knees. Therefore, we have decided to take what we believe is a well-deserved break.
In the meantime,
Bon Appétit!
Copyright ©1991-2022 by N.H. Associates - ALL RIGHTS RESERVED